The Philips Norelco BeardTrimmer 3100 with adjustable length settings (Model # QT4000/42) is one of the budget friendly trimmers out there in the Philips range.
The low cost doesn't necessarily make it a bad trimmer. As a matter of fact, for its price and features, it's believed to be a bargain product.
This stubble trimmer comes with a host of features and it's backed with a 45 days risk free trial. That being said, the product does have some minor flaws. Let's have an in-depth look at the product features along with its drawbacks.
Product Features:
The design of the Philips Norelco BeardTrimmer 3100 is simple but it packs up everything that you require in order to experience a good beard trimming session.
Read Also: Philips Norelco QT4014/42 BeardTrimmer 3500
Moreover, it does not include all the little accessories but gets the intended job done in a hassle free and effective manner.
Basically, it's a one-piece simple unit so you don't have to mess around with different length guards in order to get a perfect shave.
The trimming lengths can be easily changed from 1mm to 10mm with a simple flick of the thumb by making use of the dial preset on the front of the device.
This is one of the unique selling points of this trimmer because most other trimmers out there do not offer this luxury.
Moreover, the built-in 10 length settings have a special locking feature that allows users to experiment with different stubble styles to get the perfect bearded look and to get an even trim on every occasion.Basically, the secure locking ensures a precise finish at all times.
Equipped with self-sharpening blades made from Chromium steel, this trimmer is also hypoallergenic. So, the product manufacturers have ensured that the trimmer can be used by people with sensitive skins too.
Also, the sharp blades won't let you down for several years. Reviews from consumers attest to the facts that the blades last for several years, especially when used by a single user.
Since the blades are made from Chromium steel, they are highly durable and they retain their sharpness for long.
Also, the self-sharpening feature ensures minimal maintenance. One won't have to oil them regularly. Simply switch the trimmer on and it will be all set for use.
The Good Points
For its price, the product is a steal. For under $20, it's hard to come across a trimmer that will last for years to come.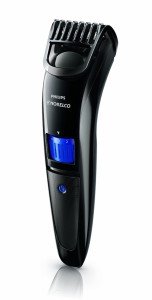 The trimmer is an easy maintenance product. No oiling is needed. A simple tap rinse is all it needs to get cleaned since the trimmer comes with a fully washable head.
This rounded beard trimmer is perfect for those individuals who suffer from skin irritation.
The battery time is favorable too. Once recharged, it does last for a good 45 minutes.
That being said, it does require full ten hour charge time. One's best bet would be to charge the trimmer overnight so that it can be used in the morning.
The product is backed with two years warranty.
Product Drawbacks
There is no case or stand included in the package. Despite the fact that the trimmer has 10 length settings,
it is not ideal for those who are looking to get a very close shave that they are used to from other expensive trimmers out there in the market.
The Final Verdict
This product is ideal for those who are looking for an easy to use, no fuss beard trimmer from a reputable manufacturer such as Philips.
With economic pricing combined with a host of good features, Philips Norelco BeardTrimmer 3100c ertainly falls into the category of trimmers that deserve at least a try!